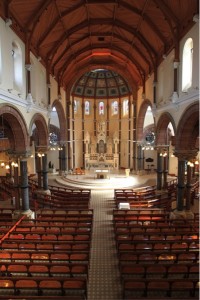 For more than two centuries, St. Patrick's has faithfully provided for the spiritual and pastoral needs of the people of inner-city Belfast, as well as workers and visitors to one of Ireland's principal cities. It has also played a significant role in the Diocese of Down and Connor, hosting the episcopal consecration of a number of its bishops.
St. Patrick's follows in a long and noble Christian tradition within the City, tracing its roots to the most ancient foundations of the Faith in this part of Ireland. Its origins are first recorded in the 1306 Taxation of Pope Nicholas.
St. Patrick's has also served as a beacon of light for the people of Belfast during some of the City's darkest and most troubled years. The death toll of parishioners during that 30-year-period of sectarian strife known as 'The Troubles' stands at 100. Some of the worst atrocities of that conflict were committed within the parish bounds, and its people still bear the physical and emotional scars of that traumatic chapter in Ireland's recent history.
The present church is an imposing edifice, rendered in sandstone and in the Romanesque style. Its treasury boasts artefacts of international significance, chief among them a relic of St Patrick's arm, enshrined in a priceless medieval silver reliquary. It also has a triptych altarpiece entitled 'Madonna of the Lakes' painted by Sir John Lavery, himself a celebrated son of the parish.
Our parish is a growing and vibrant Catholic faith community, a community rooted in the Gospel of Jesus Christ and the teachings of the Roman Catholic Church. Not only does it provide for the spiritual and pastoral needs of local residents and city-workers, but it also serves a busy hospital, a primary school and a number of residential and care homes for the elderly. Whilst St. Patrick's serves a community and district which is continually changing and developing, our parish's calling to bring Christ to the heart of our City remains.
If you are not a parishioner and would like to join the parish, please contact the parish office.