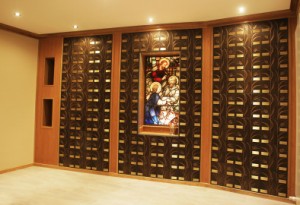 Located at the front left hand side of the church is a columbarium, for the repose of a loved one's ashes.
The columbarium was opened in December 2012 and dedicated to St. Joseph. It provides a sacred space where family members can visit, pray and be still, knowing that their deceased relative's mortal remains are in a place intimately linked to Christ and the celebration of the Sacraments. It is comprised of a series of vaults, each dedicated to a well-loved saint or object of popular devotion. The first phase consists of three vaults: St. Joseph, St. Brigid and St. Therese. These vaults hold 160, 168 and 168 urns respectively. The second phase consists of two vaults, dedicated to the Sacred Heart and St. Anthony. These were installed in early 2016 and have already attracted high demand. Consideration is being given to the installation of a third vault in the near future.
The cost of each urn niche is £1,200. The cost of an urn niche can be paid in full, securing a place under lease agreement. Alternatively, payment can be made in instalments.
If any parishioner or friend of the parish would like further information on the columbarium, please take a brochure available at the entrance to the columbarium, or contact the parish office. Alternatively, you can download information here. Space is limited and allocation is on a first-come, first-served basis.