"If one of you is ill, he should send for the elders of the Church, and they must anoint him with oil in the name of the Lord and pray over him. The prayer of faith will save the sick man and the Lord will raise him up again; and if he has committed any sins, he will be forgiven".
[James 5:14-16]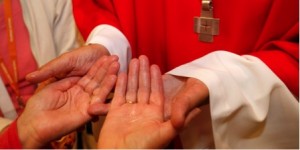 By the sacred anointing of the sick and the prayer of the priests the whole Church commends those who are ill to the suffering and glorified Lord, that he may raise them up and save them. And indeed she exhorts them to contribute to the good of the People of God by freely uniting themselves to the Passion and death of Christ.
(Catechism of the Catholic Church 1499)
If you or a loved one is ill, infirm or house-bound and in need of the sacrament of the Anointing of the Sick, please contact the parish office.
When in Hospital
No matter what hospital a parishioner is admitted to there is always provision for a Catholic hospital chaplain to visit. The chaplaincy team are only permitted to visit patients who have asked to see the chaplain. If you wish to receive a visit, please ensure that staff are made aware of this immediately. Priests and chaplaincy team members cannot visit if you do not inform the hospital of your wishes.
If a parishioner is aware that they are going into hospital for planned surgery, contact should be made with the parish office to arrange for a priest to make a home visit and administer the sacrament.
If a parishioner is preparing for serious surgery, or if they are critically ill or nearing death, a family member should ask hospital staff to have the emergency chaplain on call contacted through the hospital switchboard.
Prayer
Father, I find it hard to accept this illness.
I am impatient.
I find it hard to speak to anyone.
I find it hard to talk to you.
I am wrapped up in pity and worry for myself.
I worry over my health.
I worry about the things I would like to do,
ought to do, but now I cant.
At a time like this I find it hard
to believe in you,
to trust in you,
to love you.
And yet I want to believe, to trust, to love.
I know you really care for me.
I cast all my care upon you.
I leave myself entirely in your hands.
Not my will but yours be done. Amen.